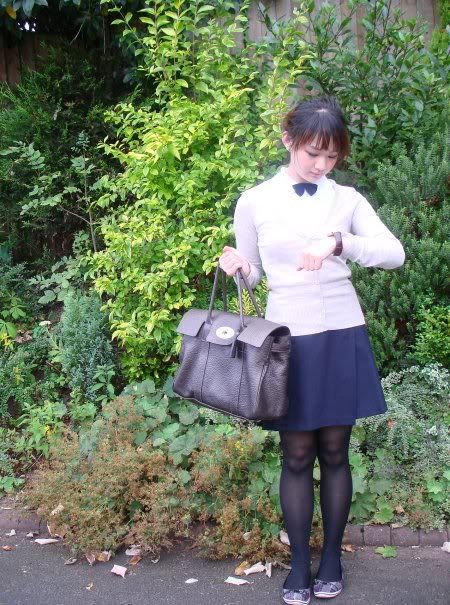 Polo shirt - Tommy Hilfiger
Cardigan - H&M
Skirt - American Apparel
Tights - Marks and Spencer
Shoes - River Island
Bag - Mulberry
Bow tie - brother's
Sorry for the poor lighting, you can hardly see my cardian. This is what I wore to work yesterday. I looked like a school girl (I think it's the skirt, which is way overpriced btw, should have just got a £5 netball one). One colleague also said I looked like a waitress. My shoes didn't match but I didn't care since they are comfortable. Work is starting to drain all the energy out of me. I already can't be bothered. Got 40 or so years left of this!
Kind of annoyed that they haven't paid me yet like they promised. Also doing overtime so I can get a day off in lieu but it's going to mess up and they'll underpay me since I'm not on the system yet so my extra hours aren't being recorded. Frustration!!!