On Sunday Amy went to feed the ducks at her local park. Afterwards she sat under a tree reading books about Jack the Ripper and Malcolm X. For dinner she stopped by a fish & chip shop and gave away the change to a man sleeping at the bus stop.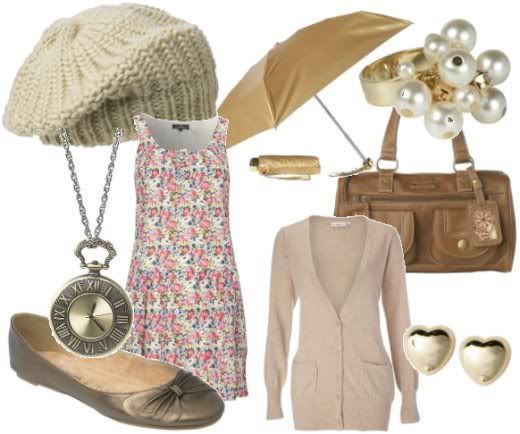 English summers are so fickle! The weather forecast promises sunshine but all you get is dreary skies. That's why the floral print dress (£30) really lifts my spirits.

All you'll need are some cute heart-shaped stud earrings (£3 for 3 pairs), a sweet cluster ring (£4), a watch pendant (£15) and some shiny bow flats (£20). Of course, you are never sure when it'll rain so you'd better throw on a cute boyfriend fit cardigan (£20) and bring a metallic umbrella (£8) wherever you go. Keep your head warm with a knit beret (£6). Throw all these things inside a big pocket front bag (£12) and that's you sorted.