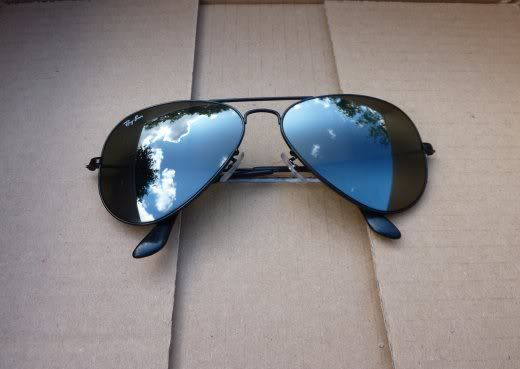 I was lucky that the sun was shining. Look at the blue sky!
Lately, I have had such an urge to buy a new pair of sunglasses, but I think I have a face that doesn't suit anything! I just look like a bug with giant eyes. If you're having as much trouble as me, here's a few pointers:
Oval-shaped face: the length of your head is longer than the width and everything is in proportion. You're lucky, because pretty much anything suits you! Try something oversized.

Round-shaped face: width and length are pretty much the same. Buy frames that are angular and narrow to help lengthen your face. Frames with browbars are meant to pull your face up too. Try aviators.

Square-shaped face: similar to round faces, but your jaw and cheekbones are more strongly defined. Choose sunglasses with rounded edges and curves to soften the lines. Try warriors.

Oblong-shaped face: similar to oval, but with a squarer jawline. Choose larger frames which will help shorten the face. Oversized sunglasses look great on you. Choose something with curves. Try visors.

Heart-shaped face: small (pointy?) chin, wide forehead and high cheekbones. They are hard to find, but see if you can get some frames that aren't too wide on the bottom. Try predators.

Diamond-shaped face: small forehead, high cheekbones and small chin. Oval frames will soften the contours of your face. Narrower frames also work to balance out your cheekbones. Try new wayfarers.

Bottom line = choose a pair that balances out your face and keeps everything in proportion. And, no, I am not affiliated with Ray-Ban or the Sunglasses Shop. I just love Ray-Ban!