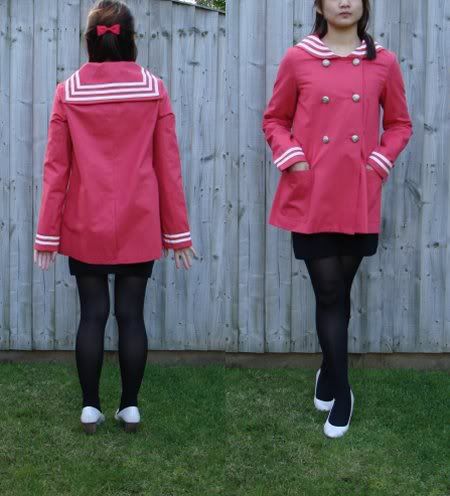 T-shirt - Gap
Skirt - American Apparel
Tights - Marks and Spencers
Shoes - New Look
Coat - Topshop
Hair accessory - Claire's
So... do you like my new coat?! I saw this online and immediately knew I had to have it. I am a sucker for sailor-esque clothes. I hate buying online so I checked three stores in person before typing in my details at Topshop.com. It arrived on Thursday and I must admit, I was a bit disappointed by the thin material and the colour (it's more of a washed out red). It's also a bit big so hopefully they have a size 6 instore which I can exchange it with.
Went out for a delicious meal for my friend's birthday on Friday (I had confit duck leg [strawberry sauce!] with dauphinoise potatoes and butternut squash, yum) and on Saturday I drove 35+ miles to another friend's house for drinks and Wii games. Didn't take any outfit photos for either occasion though, whoops. Today I'm going to a thing called 'GO APE'. It's like a fun version of an assault course?!