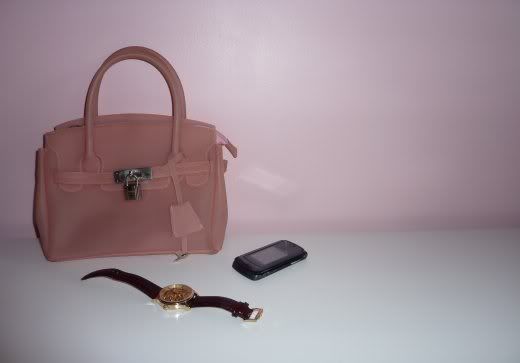 Last week I talked about my shoe wardrobe so this week I'm going to talk about my handbags. I had huge handbag lust during 2006-2008. It's died down a bit now. Mainly because my wishes have been fulfilled...
The one and only: this handbag is your 'go to' for everyday life (shopping, lunch with friends etc). It should probably be in black, tan or off-white and should be large enough to carry around your phone, purse, keys, make up and anything else you like to have with you. How much you pay for this depends on how fickle you are. If you LOVE it and will use it for years to come then feel free to spend hundreds on it. Otherwise there is a plethora of options on the high street. Personally, I am eyeing up a Miu Miu bag.

The eco tote: everyone is going green these days and so should you! Get a canvas bag that you can fold up and put inside your everyday handbag so you can say 'no' when the sales assistant asks if you want a plastic carrier bag. They are available in some cute colours and chic prints these days so there is something for everyone.

The structured tote: ideal for the office or when you want to look smart (interviews!), but it all depends on where you work. Ideally they should be A4-size so documents can fit inside without getting creased. The Mulberry 'Bayswater' is a good designer classic.

The weekend bag: also known as the travel bag. It's fairly big but not so big that you can't take it onboard a plane. It should be able to fit in two changes of clothing, your toiletries, a pair of shoes and a few little extras. There are so many colourful choices these days. Since it gets thrown around at train stations, I use a bag I bought from Primark for £6.

The holiday bag: should be fairly discreet and very secure since most tourist places are a treasure trove for local pickpockets. Therefore, make sure your bag has zips! I prefer using messenger bags on holiday so my hands are free to take photos.

The clutch: is only a necessary staple if you go to events requiring the use of a clutch. Make sure it's big enough for your basics. If you wear fairly simple dresses, make the clutch your eye-catching item, but if your dresses are very detailed, make your clutch more subtle.

The dream: is the super expensive handbag at the top of your wishlist! For me, this was the Chanel classic flap. It's so simple but beautiful and really perks up any outfit. I'm still paying my mother off for this lovely thing. If your wishlist bag is trendy, you can usually buy a 'copy' on the high street. If not, just put aside a little money each month and you'll be able to afford the dream before you know it.

So really, you only need seven bags but, if you are like me, you sometimes can't resist that leather beauty calling out to you.