Ruffled blouse - HK
Skirt - Miss Selfridge
Spotted tights - HK
Bow - gift
Shoes - Marks and Spencer
Red lip laquer - MAC
Nail varnish - Laura Paige
Rings - Accessorize and various
Here's a gander at a work outfit. This is actually dressier than what I normally wear but I wish I had more blouses like this so I could create more 'classical' looks. I think ruffles are so romantic and feminine. Dressing like this must make me look older (or perhaps it was the excess make up) as a woman at the post office asked me about mortgages and life insurance. People usually dismiss me as being 15 years old.

I'm glad that the snow has subsided (for now) but I'm a little sad I didn't take any outfit photos whilst there was a beautiful blanket of snow on the ground. Saying that, it's nice not having to de-ice the car every morning and shivering in work.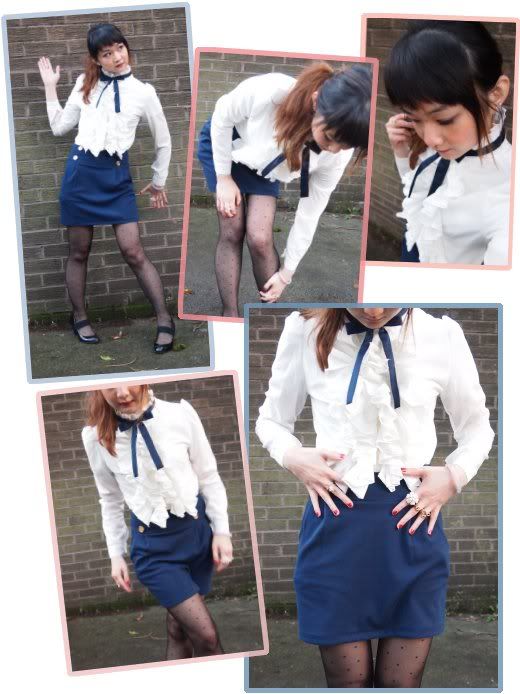 Is everyone geared up for Christmas? I was really excited for it until December hit and now I feel nothing. Perhaps I just need to do some more Christmas shopping... for myself!!! Maybe I'll get some cosy Ugg slippers or these amazing discounted See by Chloe platforms. Or maybe I'll treat myself to something from the new Marc by Marc Jacobs collection at Daniel Footwear.

"Women's Shoes by Marc Jacobs - too irresistible!"