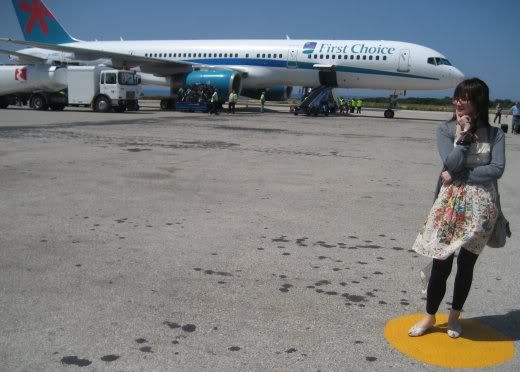 I'm thinking this outfit was not thought through.

It's not actually that hard to look stylish whilst flying, but it depends how 'glam' you want to go. Of course, comfort is very important, particularly on long haul flights. These are my personal rules for plane wear:
1a. Wear a dress
- just a simple dress (like a shift or tunic). Assuming it's not a bodycon dress or similar, you won't have any pressure on your belly and that is a huge plus for comfort. Jeans can be a bit restrictive. Of course, you can always wear a skirt, cargo pants, shorts etc. but I find dresses are the most convenient and easiest to look chic in. If you really want to, bring a belt to jazz up your dress once you arrive.
1b. Alternatively, a cotton top/jersey and loose-fitting trousers (in black) will also look effortlessly chic. Comfort is still the key factor!
2. Shoes - no high heels
. Who wears heels on a plane? With the exception of being in first class, you just look like an idiot. And (God forbid) if the plane were to crash land, you'd have to leave your heels on the plane, leaving you barefoot (though that should be the least of your worries).
Depending on the destination, my footwear of choice would be boots, sandals/flip flops or trainers. Some people may wear pumps/flats, but feet expand in the air and since I have awkward sized feet, my shoes changing size would not be very ideal. Some people bring a pair of slippers onboard to walk around in. I think that's quite clever, but I'd also rather not carry unnecessary things.
3. Bring a cardigan
- or some sort of wrap. Sometimes it gets rather chilly so it's better to be safe than sorry. Most airlines can supply blankets, but they may charge you. A pair of leggings can also be useful if you're flying from Tenerife to Glasgow.
4. Layer
- and on the other end of the spectrum, it may also get quite warm (I find this very rare) so be ready to peel layers off if need be.
5. No make up
- it's pretty much like going to sleep with make up still on your face. For a short flight eg. Paris to Madrid, then it's acceptable, but if you're on a plane for 10+ hours from Seoul to L.A. then you really don't want to be caked in make up. Carry some facial wipes in your handbag and a really good moisturiser (truth be told, I like to smother my face in Origins creams from the airport counter) to ensure your skin stays hydrated throughout the journey. A good lipbalm is also desirable. You can always re-apply your make up just before you land.
6. Keep your hair down
- if you want to rest your head on the headrest, then it's much easier to do this without having hairclips and headbands getting in the way of your comfort.
7. Sunglasses
- you may be labelled as a snob for walking around with your sunglasses on, so it's up to you. They can also double as an eye mask when you want to sleep.
I have
previously discussed
what I carry in my hand luggage, but I just want to add that if you're afraid of losing something in your suitcase (like jewellery or a really nice dress) then take it onboard with you. Furthermore, if you're travelling with others, see if you can put some of your clothes in their suitcase just incase your suitcase doesn't make it! At least you'll have half your clothes.
What are you preferred travel outfits?