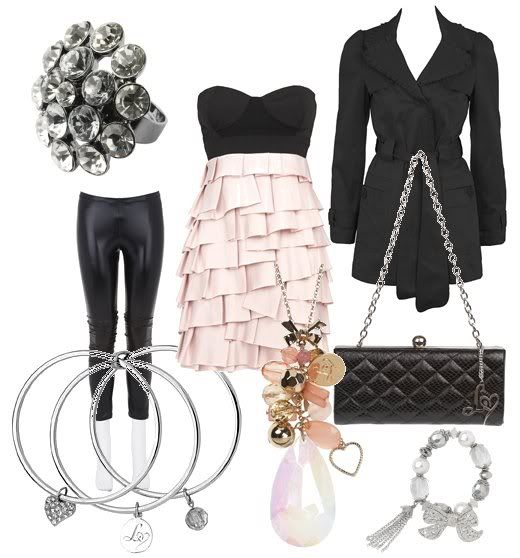 One good thing about having a full-time job is the money you earn. I can't wait to have a regular income so I can buy pretty garments like this gorgeous bustier ruffle dress (£70) from Lipsy. I think the satin ruffle layers are so sweet and fantastical. The above dress is in nude, but also comes in white, pink, red or rainbow leopard ruffles.

With such a detailed skirt, you don't really need to accessorise a lot, otherwise it'll be overpowered. Just a simple quilted clutch bag (£15, was £30) with a round jewel cluster ring (£7, was £12) is all you need. Alternatively, a single bracelet like the large bow stretch bracelet (£7, was £14) or a slim set of 3 charm bracelets (£10) will also do the trick. I also adore the vintage cluster charm necklace (£7, was £17) which highlights the nude coloured ruffles on the dress. If it gets a bit chilly, throw on a pleated collar mac (£75) or some cropped wet look leggings (£12).

Dresses by Lipsy can look like they are for the blonde extension + fake tan kind of girl but they really do have some gorgeous designs. Check out the VIP wire frill hem dress (£145) or the VIP fan pleated dress (also a crippling £145) if you don't believe me. Drool.