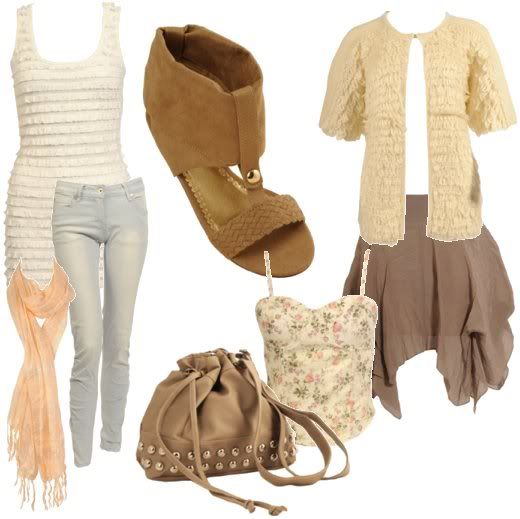 Despite nautical and nude being big trends this season (and also two of my all time favourite looks), I'm not really feeling the high street this week and I think you can tell. Saying that, I did pop into Select on my lunch break yesterday and I really want these weird sandal slash boot (£14) things. This isn't the best picture. But can I really wear them by the pool side and whilst walking along sandy cobbled streets when sightseeing? Multi function is key for holiday clothes! You can only pack so much into a suitcase.

A cute spring look would involve these ankle cuff sandals paired with bleached jeans (£22) with rolled up cuffs, a frill ruffle vest (£12) and a lurex ladder scarf (£8). Alternatively, wear them with a cropped ditsy print corset (£14), a taupe ghost hitch up skirt (£16) and a wonderfully textured loopey cardigan (£25). Both of these looks costs less than £60, so you might as well treat yourself to a dome stud duffle bag (£12) to carry you loot around.

PS Sorry that I'm taking even longer than usual to reply to comments. Work has been tough lately!