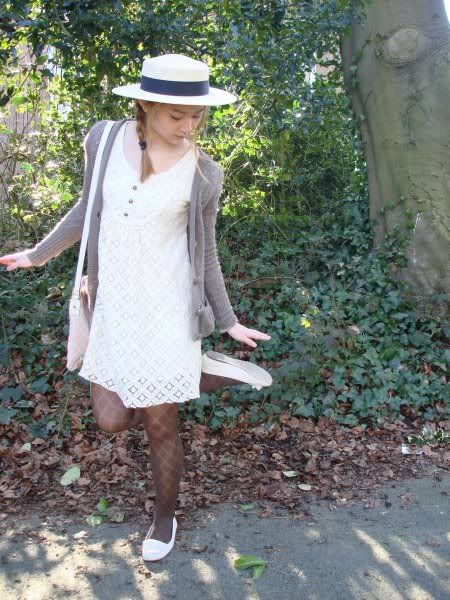 Dress - Miso
Cardigan - Urban Outfitters
Shoes - Office
Boater - Topshop
Handbag - faux Gucci
Tights - Asda???
Oh, it feels good being able to take photos outdoors again. Last Sunday was a surprisingly sunny day so my friend and I had an impromptu chase for tortoise food and clover plants. We saw adorable rabbits, chinchillas and chameleons and not so nice crickets, mealworms and tarantulas. We finished the day with 99 Flakes topped with lots of raspberry sauce.

I think there were a few too many patterns in my outfit; I wish I had plain brown tights. The plaited hair and boater are because I was having a bad hair day, but somehow it added to the outfit? It's been so long since I wore these loafers. I was rooting through the cupboard to find some other shoes, but I happened upon these. I felt bad because I'd forgotten I even had them and they were a birthday gift. I guess that means I have too many pairs of shoes. Does this happen to anyone else?
Although I love autumn/winter fashion the most, I can't wait for the warm weather!