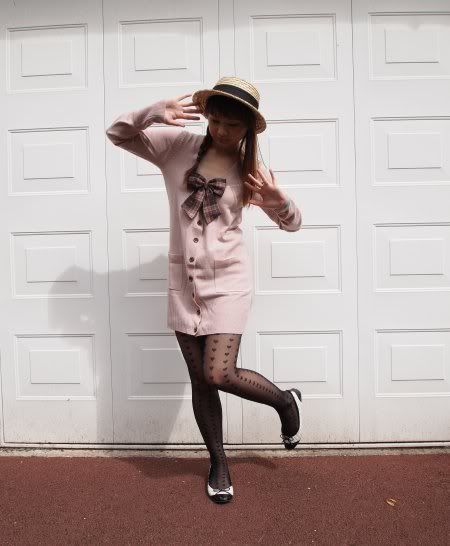 Long cardigan - H&M
Bow brooch - Topshop
Tights - Topshop
Shoes - River Island
Hat - fancy dress shop
Knuckle ring - Accessorize
This is an outfit I wore last week to run some errands. It's the return of my cardigan-as-a-dress, whoo. The only problem is the deep V-neck so I had to pin the top together with a brooch. I would have cinched the cardigan with a belt as well, but it looked too busy with the bow, buttons and pockets. A girl in Vivienne Westwood complimented my boater, but I don't know if she was just trying to get me to buy something.

I didn't like these heart tights much before (I would have preferred a more scattered heart pattern) but they actually make my legs look so long and slender! I forgive them. Also displaying my newest jewellery acquisition. It's a two-finger knuckle ring with "love" across the front. I originally wore it 'upright' as in the bottom photo, but my brother said I should wear it 'upside down' so when I do DAPS, it would be the right way around. What do you think?
Do you ever go into a store intending to return something you've bought and end up buying something else (more expensive) instead?