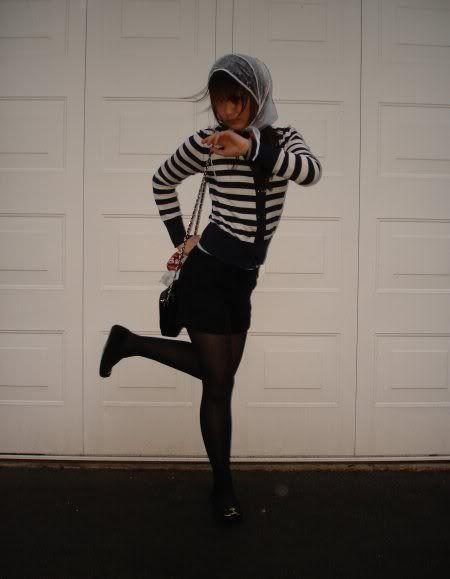 Camisole - HK
Cardigan - H&M
Shorts - Gap
Tights - HK
Shoes - Topshop
Bag - Cancer Research
Mac - Select
Rainhat - Asda
Had the swine flu vaccine this week. Exciting stuff? Found an amazing white faux fur scarf in a dépôt ventes-esque shop but it was £40. Too dear for me! Bought some cute boots elsewhere though. Am also debating over some Vivienne Westwood booties and yet another Topshop coat. If I get them I cannot allow myself to purchase anything until January. Think I can do it?

Oh, can you tell my tights have a leopard print pattern? My P&S camera lighting is so poor! I get stared/laughed at when I wear my old woman rainhat but I love it. It's so much easier than lugging an umbrella around. Most of the things I tried on yesterday had stripes. I am a sucker for nautical themed things.
Sorry I'm always so slow getting back with comments! I know I look like I post a lot but they are all done en masse a few weeks beforehand (apart from the outfit posts).