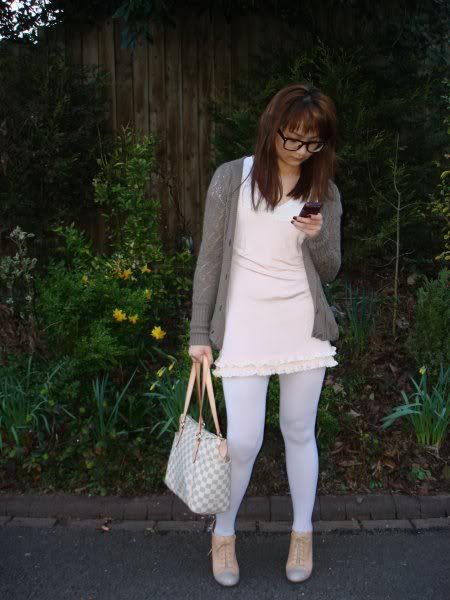 T-shirt - Gap
Jersey dress - H&M
Cardigan - Urban Outfitters
Tights - HK
Shoe boots - Office
Handbag - Louis Vuitton
Last Saturday my friends and I had hoisin duck pancakes for dinner followed by sticky toffee pudding. Our new thing is watching old films at the weekend; Hook, Finding Nemo and The Little Mermaid. Catching up with old friends is good... I really wish I had my own Friends-esque apartment!

I wore a jersey dress that looks a lot like babydoll nightgown. I initially bought it in navy because I thought it's something Blair Waldorf would wear for bed (this was back in 2008 when BW was still awesome). I was devastated when it shrunk in the wash so I bought the blush pink one too. It has also shrunk, but not so much it looks like a vest top!
Is everyone loving this four day Easter weekend as much as me? I really needed a break from work!