For most of this week I have been sifting through my pile of dusty magazines and flipping through them to cut out pictures for my 'inspiration' books. I currently have three; one for fashion, one for interior design and one for weddings. I do not have my own house and I am no longer in a relationship, so the latter two are really just for fun. But a girl can dream (and hope and wish)!

It actually takes a while to make one decent page in the books because a single magazine usually only has 5-10 pictures that are really 'my style'. Plus, magazines don't come cheap these days. Of course you can use the internet since there is a plethora of amazing images online.

1. Decide what your inspiration book is for - you could have separate ones like me, or you could just put everything in one book and have that as your source of inspiration. A Persian rug could be a gorgeous decor piece, but the patterns in it could also influence your clothing choice for the day. You could have a book full of happy things or places you want to travel to.

2. Buy a pretty notebook - a pretty cover means you'll love the book even more. I have found that spiralbound notebooks are best, especially if you plan to glue in '3D' type things. Something A4 sized is probably best since it would be a shame to chop off the edge of a pretty photo just because it didn't fit.

3. Buy magazines/surf the web - images for your book can come from anywhere. I even have pictures from a dog care magazine. You could ask your friends for their old magazines or even a doctor's office. Please recycle any leftover parts of the magazines! For my interior design book, I also go to homeware stores to get fabric and paint samples. It's all part of the fun (or I am just very sad).

4. Organise your images - it all depends on how you want your book to look. You can sort by style, colour, decade, feelings, seasons etc. It's your book, so you do what makes you inspired.

5. Supporting words and images - I like to cut out words or phrases from magazines which describe the theme on the page. Extra images in similar colour waves or 'accessories' can really help pull a look together. Just look at the image below. Doesn't it look bland with just the four outfits? In the second image, I have added some extra snippets to spice it up. You can also draw or write your own words, stick in gift bows or shoelaces... anything!

6. Have fun - yes, it does take a long time and your back will ache and your fingers will get sticky, but when you are finished, you'll have an amazing unique book.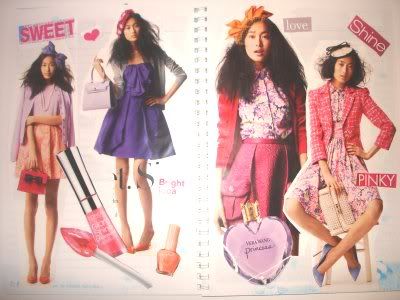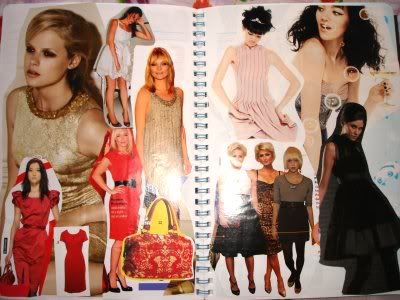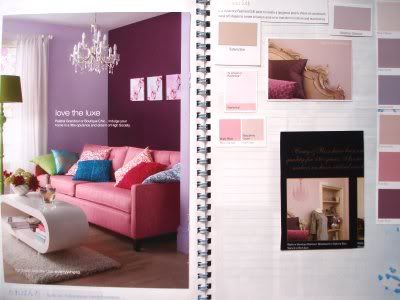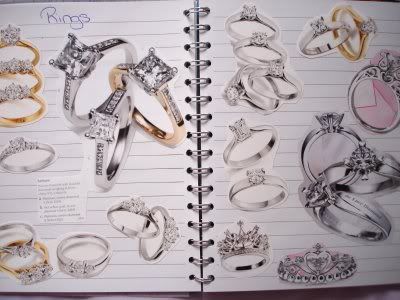 All images shown are from my own books. Excuse the poor photography and lighting, my camera appears to be dying.