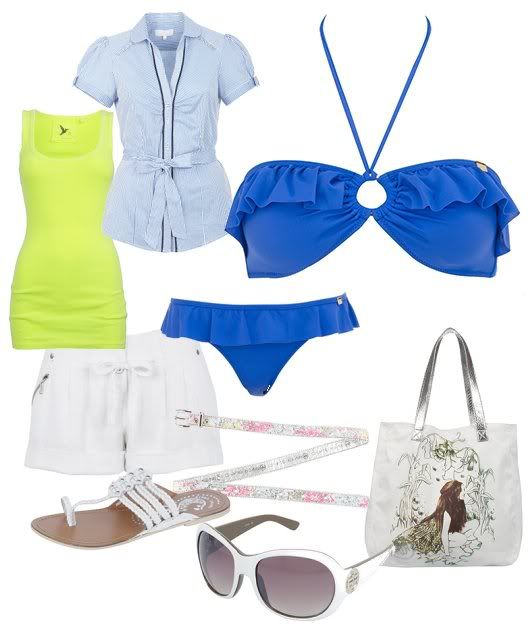 Summer has officially arrived (apparently there's a heat wave in the UK this week) and lots of people are setting off on their sunny holidays. I wish I'd seen the above blue bikini before I went to Greece. I just love the ruffle layer; ruffles are meant to enhance cleavage! The set will cost £24.98 and the top on its own is £14.99.

Cover up your modesty on the way to the beach with white tie linen shorts (£16.99) and a stripe button puff shirt (£12, remove the waist tie). Or for a more casual look, pull on a neon long line vest (£6.99, also available in pink, white, black and striped) and a skinny glitter belt (£9.99). Finish off with plaited detail sandals (£14.99) and circular hinge glasses (£12.99). Load up your things in a fairy print shopper (£14.99) and you're good to go!

Sorry I can't link to each individual item, River Island uses flash for their website. Everything here will cost you £113.92. That's not bad considering you can use most of the items listed here more than once during a one week trip.