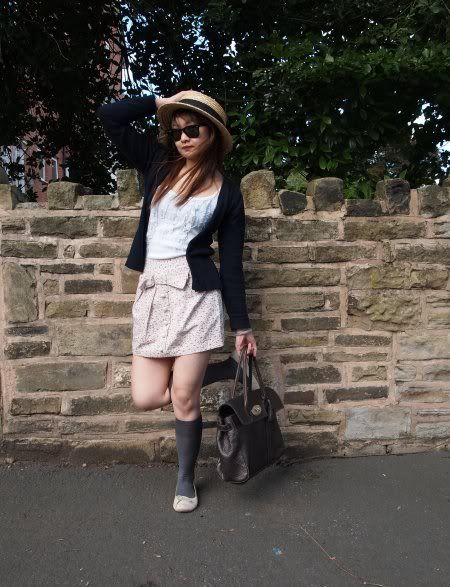 Top - HK
Cardigan - Marks and Spencer
Skirt - Topshop
Socks - Primark
Shoes - Topshop
Hat - fancy dress shop
Sunglasses - Ray-Ban
Wing ring - ASOS
Silver ring - granny
Handbag - Mulberry
Why is it that the outfits I like most never photograph well? There is a lot of detail on the top and skirt but I couldn't capture them very well. I also took these photos in a new location and had a LOT of people staring at me so I kind of rushed it. Anyway, I didn't want to let summer pass without wearing my favourite floral skirt. It has buttons and a pleated bow on the back, but I wear it forwards because I worry about creasing the bow when I sit down.

Recently I've had LASIK laser eye surgery. Now I can see clearly without lenses! Still going through the healing process and that means no make up for a couple of weeks. How will I survive? It also hurts a bit when I stare at a computer screen too long so comments may be delayed (but how is that any different to usual?).
Haven't worn these cream shoes for a while, think I'll donate them. I used to wear them everyday for uni.