I have been a despicable blogger as of late! I can't even be bothered doing outfit posts anymore. Sorry! Here are a few rubbish pictures of some recent purchases. I love autumn fashion, I'm not sure why, but the clothes appeal to me so much more and I spend so much money on myself in the months running up to Christmas. Perhaps it is due to my love of cardigans, tights and coats. What is your favourite season?
This dress has no shape at all and was extremely overpriced (Urban Outfitters) but I fell hook, line and sinker for the Peter Pan collar and the navy contrast trim. I felt the emerald green would make a nice addition to my closet.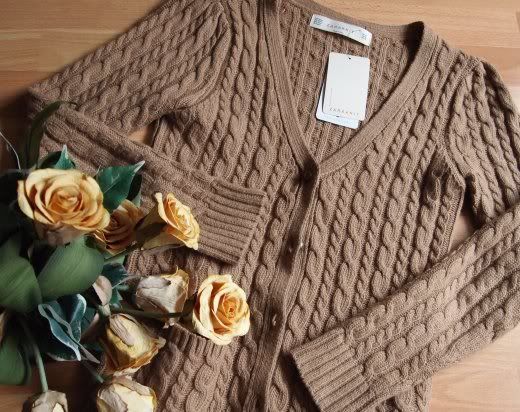 Stumbled upon this cable knit cardigan whilst hunting for something else in Zara (a Peter Pan collared floral T-shirt, if you must know). The only thing that would make this cardigan cuter is a couple of suede patches on the elbows.
I am in two minds about this fur hat! It is incredibly cute but I am a little annoyed by the white streaks in it. Also, there's a line that goes along the top where the seams meet. Perhaps I am being too fussy?
Even though I already have four or five winter coats, I couldn't resist this rust coloured coat with navy detailing! It's also incredibly hard to photograph so you may never see the whole garment. Topshop sucks me into buying at least one coat per year.
Last of all, a pair of boots from We Who See. I have been on the hunt for a pair of girly-ish lace-up knee boots for years and sadly the search continues. I adore these so VERY much but they fit me funny so I have since returned them.

Have you bought anything new that you love?