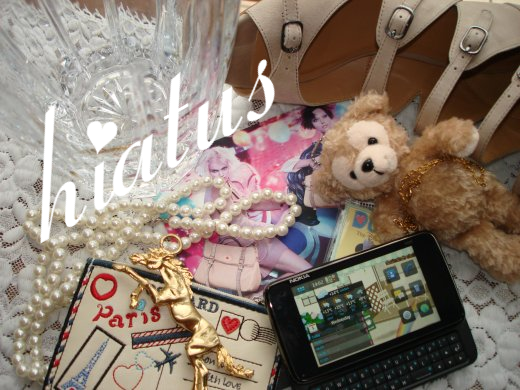 *** ♥♥ HIATUS ♥♥ ~
I said I would be blogging less due to exams but now I've decided to go on hiatus until they're over (end of June). In April I made a bunch of 'high street lust' lists and there are three left to "go live" so you won't notice my absence until after that. This blog's one year anniversary will happen during my hiatus and I'll do a giveaway or something when I come back. Until then, you can still reach me here:

E-mail - I'll do my best to reply asap!
Poupee Girl - I'm too addicted to stop playing :(
Twitter - I don't tweet much but I like following others, especially now I have internet on my phone. If you add me, just drop me a line so I can follow you back.
Do you like my brother's boots? Although they are too big for me, I thought they looked good with the outfit. Don't worry, I wore my own shoes when I went out. The items in the top photo are a few of my favourite things at the moment ♥